We are all about growing people and plants and together these special people nurture both!
Trustees:
James Gore-Langton      Caroline Gore      Frances Prior      Richard Blackburn     Kevin Evans      Gemma Fowler
Staff:
Anne Merry – CEO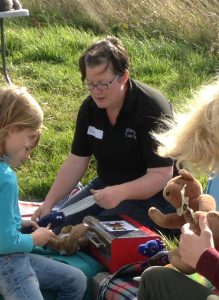 Anne Merry has been part of the Growing Works Team since 2018 bringing her love of the outdoors and experience of working with young people to key projects.  Having huge enthusiasm to drive Growing Works to reach its full potential Anne became Project Manager from October 2021.  You can contact Anne at anne@growingworks.org.uk or the Growing Works Team at info@growingworks.org.uk
Rachel Burnett – Project Coordinator
Rachel has been with Growing works since 2012 working in a number of roles, their real passion has always been for the Sprout project, working with families of children with additional needs.

With qualifications in Countryside management, Education, and supporting people with additional needs coupled with a love of everything outdoor,  Rachel brings a wealth of experience along with immense energy and compassion to the role.

When not at work Rachel is happy in the garden growing and living with the seasons.

Contact Rachel: rachel@growingworks.org.uk
Jess Crawford – Project Coordinator
Jess joined the Growing Works team as a Volunteer in 2020 and became a Project Coordinator in 2021.  She brings with her a wealth of experience and enthusiasm from the environmental sector and a personal passion for all things fungi!
A keen forager Jess has many recipes up her sleeve to make use of natures bounty and enjoys sharing this with others.
Contact Jess: jess@growingworks.org.uk
Benjen Taylor – Session Facilitator
 Benjen joined Growing works in 2017 taking on the role of delivering Young Shoots along with leading Sprout sessions.  Their bushcraft skills have been developed through Forest Schools and their ability to engage and communicate well with young people has been a asset to both projects. With an MSc in Biodiverisity and Conservation and Forest School level 2 Benjen is always keen to pass on their skills and has a desire to connect with the natural environment in a relaxed and captivating way.
Michelle Goodwin – Session Facilitator
Michelle joined Growing works as a volunteer in 2013 gaining experience as a session assistant and becoming the Young Shoots Project Officer in July 2016. After a short break to bring Meadow Ruby into the world Michelle has returned to Growing works as a Sessional Facilitator and continues to support participants in enjoying natures bounty.

Outside of Growing works Michelle can be found teaching Yoga and promoting wellness and mindfulness https://www.facebook.com/BellaGaiaYoga/
Jill Morris – Session Facilitator
Jill joined Growing works in 2015 working initially on SPRout and then also supporting on POD and Young Shoots sessions when not busy studying – Jill gained a degree in Medical Biology last year and is currently working towards an MSc.

Jill is always up for a challenge and in 2017 presented a bid with Sue to a "Dragons Den"panel – resulting in a joint project between POD and Young Shoots.
Tracy Drake – Session Facilitator
 Growing works were lucky to employ Tracy in 2016. Tracy has bags of experience on community and arts based projects and brings energy and enthusiasm to Sprout planning and leading sessions.

In the day job Tracy can be found at Healthy Minds Calderdale, supporting the people of Todmordon and the Rochdale Upper Valley.
Matt Walker – Session Facilitator
Matt joined the team in 2016 having been introduced to Growing works by working 1 to 1 with children with needs. Matt is a great asset connecting with participants and bringing high spirits and commitment to the role.

Lately Matt can be found out of hours attacking a bramble covered allotment plot adjacent to the Growing works Dalton allotment.
Angela Cartwright – Session Facilitator
 Angela joined Growing works in 2016 having previously volunteered with the women's centre.  Angela brings imagination and creativeness to the role and with experience of working with children Angela has a wealth of ideas at her finger tips.

When not at Growing works Angela is busy organising youngsters ice skating competitively and keeping a healthy veg plot growing.
Gillian Dukes – Session facilitator
Gillian is very at home at Sprout using her skills to teach children about the environment and help them learn new skills and build confidence.